Please stay in touch! Sign up for our free E-News.
About Family and Home Network
The national non-profit 501(c)(3) organization Family and Home Network helps families spend generous amounts of time together by offering affirmation, information and advocacy.  Founded by three at-home mothers in 1984 (and originally named Mothers at Home) this grassroots organization counts on volunteers to accomplish its work and relies on member contributions to cover its modest operating costs.
Family and Home Network fosters a respectful exchange of ideas, parent-to-parent communication, support and understanding.  Volunteers bring a wealth of education, expertise and experience to Family and Home Network, and new members are encouraged to get involved in the organization's work.
For 22 years, we published the award-winning journal Welcome Home. Much of the content on this website was originally published in Welcome Home.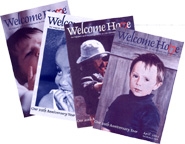 Please see our Timeline to learn more about the history of Family and Home Network.
Our work addresses the needs of:
Children – we learn about research on nurturing and emotional growth, and share that information with parents, policy makers and the media.
Parents – we offer tools for parents to connect so they can provide affirmation, information, and community to each other. We offer publications written and edited by parents, for parents.
Society – we educate policy makers and the media about the research on children and parents, and about the need for inclusive family policies.
There are more details here: affirmation - information - advocacy.
You'll notice there are no advertisements on our site – we believe parents need a refuge, a peaceful place to connect with each other and to recharge. Member donations support our work.  
Please enjoy the free articles and other resources we offer. And please communicate with us here or via social media (Facebook, Twitter, Instagram). 
Our Family and Home Community - a private social media site - offers a place to connect with other members and with our staff and volunteers. 
Please stay in touch! Sign up for our free E-News.
Our Vision:
Universal recognition of the critical importance of parents' emotional engagement with their children; societal support for the need of parents and children to spend generous amounts of time together; profound respect for parents who make these commitments and acknowledgement of the short- and long-term benefits to society.
Our Mission:
Advocate for parents and children of all ages concerning their need for generous amounts of time together;
Affirm the choice to be home through the many stages of parenthood to nurture children of all ages;
Provide parent-to-parent support, education and networking;
Correct society's misconceptions and refute stereotypes about parenting;
Encourage respect for the contributions made by each parent, as couples share decisions regarding nurturing and providing for their families;
Empower all parents to preserve and improve the opportunity to forgo or cut back on paid employment; and
Educate society about the benefits of parents and children being emotionally engaged and spending generous amounts of time together.
For 22 years, Family and Home Network published a monthly journal, Welcome Home, which won national recognition for excellence including four Parents' Choice Awards. Much of the material on our website was originally published in Welcome Home.
Please become a member and support our ongoing work. And please consider contributing your experience and talents (and learning new skills), by becoming a Family and Home Network volunteer. For more information, click on the link below to our Volunteer Information page.

Slide
Text
All care for children must be supported including care by parents themselves!
Join our Advocacy Team!
Show your support today with a generous donation!