Image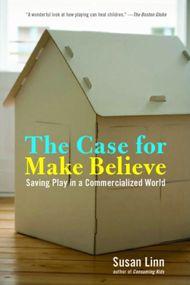 Body paragraph
The Case for Make Believe:
Saving Play in a Commercial World
by Susan Linn
The New Press, New York, 2008. 
Reviewed by Catherine Myers
This inspirational book is packed with information about the importance and the power of play. The author, Susan Linn, started creating puppets as a child, worked with Fred Rogers on his show Mr. Rogers' Neighborhood, and went on to a career as a psychologist at Judge Baker Children's Center and Harvard Medical School. In this book, she recounts puppet play sessions with children who are facing such serious problems as their own critical illness (with many medical procedures, surgery, pain), or a close family member's death, or abuse. Dr. Linn also writes about children dealing with more ordinary challenges of childhood, and about the way play is critical to children's expression of strong feellings such as anger and fear. Play offers children opportunities to reflect on their experiences and to explore possible future scenarios (Dr. Linn describes play sessions with a child who was angry and sad about having to leave a beloved school and fearful about facing the unknowns of a new school). One of the things I found very interesting is Dr. Linn's story: how she grew from a child dealing with her own difficulties through playing with puppets to a young adult bringing puppetry to children, to a student of play and psychology, and to a professional life as a therapist and as an activist, speaking out against commercialism in an effort to protect play for children.
Worried about how to explain the research theory "stuff", the author enters into an imaginary dialogue with her beloved and trusted puppet. Dr. Linn writes: "[theory is] an amazing way of understanding the links between play, creativity, and health. ...I'm hoping that if people really understand the hows and whys of creative play they'll understand how important it is. ...And they'll ensure that children have time and space to play in ways that nurture imagination and creative thinking. ...And they will stop bombarding children with prefabricated entertainment that requires only that they observe or react rather than actively engage."
This book offers information and inspiration, and also abundant warnings about the barriers to play in our society. Unfortunately, in our culture it is a challenge to offer children abundant opportunities for creative play. Parents must be vigilant and they must take actions that are counter to much of what has become the "norm." 
I'll end this review with one of my favorite sentences from the book:
"Make believe flourishes best when a community of caring adults provides children with gifts that can't be bought: time, space, and silence." - Susan Linn