Image

Body paragraph
Child Development: Understanding, Support and Intervention
Dr. Greenspan, a renowned expert on childhood development and the importance of emotions and relationships between child and parent, shows  how to recognize communicative gestures and cues from even the very youngest infants.
He urges parents to enjoy interactions and be playful, offering fascinating information as well as advice and examples of simple activities you can do with your child. It's great fun to read about how much communication goes on (whether or not we're actually aware of it), and about how important emotional development is to intellectual development.
From the website of ICDL, an organization Dr. Greenspan founded to educate professionals and parents: 
DIR is the Developmental, Individual-differences, & Relationship-based model that has become the foundation for understanding child development and providing support and intervention that helps children reach their fullest potential. 

DIR® has a deep foundation in the science of human development and can sound very technical at times.  However, it is also very simple.  It is a way to understand our children and each other that builds connections, understanding, love, communication, and engagement.  Through this approach, the true potential of each person can be discovered. 

DIRFloortime® (Floortime) is the application of the DIR model into practice.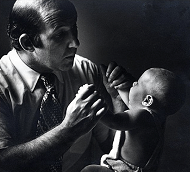 With their interdisciplinary approach, ICDL has decades of research and clinical experience. Read more on their Parents page, find a directory of professionals trained in DIR/Floortime, see the Functional Emotional Development Chart (pdf below) and the ICDL website for more information. 
Let's help our children become the poets of their inner lives.
                                       -Stanley Greenspan