Image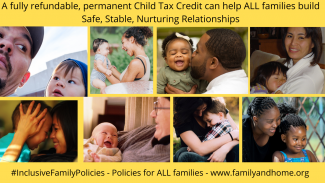 Body paragraph
by Catherine H. Myers
The expanded Child Tax Credit will help almost all families with children—as long as Congress passes it without adding a "work" requirement. Raising children is work, and also, so much more than a job.
The pandemic exposed our essential need for caregiving; ignoring or misrepresenting its lessons would be a grave mistake. Now is the time to ensure that all caregivers are respected and funded. Selma James, founder of the Wages for Housework Campaign (now Global Women's Strike) asserts: "if you are a carer (of children or others) you are entitled to financial recognition by society for that fundamental work, and it is the height of sexism to be rewarded with poverty and dependence."
The Child Tax Credit is an inclusive policy; many family policies are not. They focus on support for parents in the paid workforce, who have children in child care or school.
It's time for a paradigm shift in family policymaking: time to embrace core principles of inclusion, diversity and equity; time to align policies with the science of human development. Time to craft policies for the "care of children" including but not limited to child care.
Why haven't policymakers done this already? Just as lobbyists shape public opinion and legislation about transportation or farming, those with ideological and economic interests in keeping parents in the paid workforce promote only the needs of "working families."
Recruiting venture capitalists to join in spending $50 million on lobbying for a "universal publicly supported care infrastructure," Melinda Gates cites the yearly value of unpaid caregiving at over $3 billion—urging investors to seize this "huge market opportunity." These policies would be discriminatory: funding care only when it's done by paid providers. As Darcia Narvaez, Ph.D., founder of The Evolved Nest notes: "It's the colonizing mindset. Profit and separation over life."
Market forces are not alone in seeking policies for some but not others. When it comes to sexual harassment, we have learned to "believe women." And yet, as Neil Gilbert, Professor of Social Welfare at the University of California, Berkeley, explains, although many surveys of mothers show a majority prefer to forgo or cut back on paid employment, "From the perspective of some experts, family policy's core purpose should be to advance gender equality and harmonize work and family life in two-earner households."  Clinical psychologist Daphne de Marneffe observes the impact of decades of ideological messaging: "Virtually every area of women's reproductive and caregiving lives has been distorted by the fear that if we admit the importance of having and caring for children, we somehow risk losing our opportunities, our freedom, and even our dignity as persons."
Policies crafted to serve ideology and the economy often conflict with mountains of evidence from the science of human development. Parents need support (including unconditional financial support) as they decide how best to establish and maintain the conditions they and their children need. Children have irreducible needs for Safe, Stable, Nurturing Relationships (SSNRs): "biological necessities for all children" according to the American Academy of Pediatrics. Harvard's Center on the Developing Child, directed by Dr. Jack P. Shonkoff, offers principles to guide policymakers: "1) Support responsive relationships for children and adults; 2) Strengthen core skills for planning, adapting, and achieving goals; 3) Reduce sources of stress in the lives of children and families."
For decades, experts have been pointing to worrisome evidence of people's deteriorating mental and physical health. In response to questions raised at a White House Conference, renowned doctors T. Berry Brazelton and Stanley I. Greenspan wrote The Irreducible Needs of Children. Noting that we seem comfortable focusing on competitive survival but not on nurturance: "Could our need to deny vulnerability in ourselves mean that we have to deny seeing it in our children?" Looking at global concerns: "Providing for the irreducible needs of infants and young children and their families is the first step in producing citizens of the world who can broaden their sense of humanity sufficiently to cope with the new interdependency of the world…. In order to protect the future for one child, we must protect it for all."
Among the pandemic's many lessons are those about vulnerability and the importance of well-being—for children and also for parents. The Child Tax Credit is an inclusive policy, and an important foundational step in the right direction. As Dr. Shonkoff says: "The ultimate answer is to reduce the stressors on families, so families can do what families are best capable of doing."
Please join us: Speak Up! Call on the President, Vice-President and Congress: