Body paragraph
Who makes holidays happen at your house? Babies are not born with expectations about holidays—we have our own expectations and traditions (or habits) and continue them with our children.
When I talk with parents in our Transitioning Home workshops, we examine the role of at-home parents: just what is this "job" all about? One of the first things we talk about is feelings and expectations. I think that's a very good way to think about holidays, too (and I'm still learning to do this).
When we were first married, my husband and I spent some holidays with my parents and some with his parents. We just kind of absorbed each other's family traditions, and once we had children and celebrated holidays at our own home we had these combined (i.e., more numerous) traditions. Compared to many people, we had fairly simple holidays. But still.
It was many years before I started to learn about the importance of talking about expectations. (The book Unplug the Christmas Machine by Jo Robinson and Jean C. Staeheli offered me guidance and understanding.) I still have challenges to address, but here's one success story: cookies. Are they an important Christmas tradition? I finally asked my husband what they meant to him (and told him how stressed I was about finding time to bake). It turned out that he really wanted to continue this tradition—but only two favorite recipes were important to him—and he took over the baking. I was free of cookie-worry.
But then… a couple of years ago I decided to bake some simple butter cookies (with sprinkles!) to mail to some elderly aunts. I started a new tradition without really meaning to, but it's one I've decided is important to me. This year, I'm planning to bake those cookies and mail the boxes with the help of my grandsons. For now anyway, both my husband and I are happy about our cookie traditions. If only everything could be sorted out as easily as the cookies.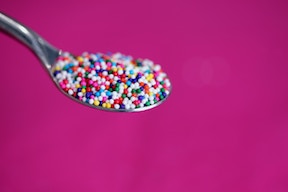 One important thing I've realized is that family traditions are important, but sometimes it's time for change -- families inevitably change. After decades of staying home for the holidays, we're now the grandparents, and we're traveling to be with our grandsons.
To find our articles and resources about Holidays, just type that term in the search bar or click on the Holiday topic link in our Resource section. We'd like to hear more about all kinds of holidays and all kinds of traditions -- and of course about how you think about your own and family members' expectations.
Photo by Sharon McCutcheon via Unsplash
This blog post was first published in November 2012.